Read on the go
Your favorite Christian ebooks are available anywhere you go with the Faithlife Ebooks mobile app. One-touch Bible references, cross-library access, searches, more.
Download now
On sale now
Save on
Christian ebooks
Shop now
Read this month's free book!
Undefended: Discovering God When Your Guard is Down
Daniel Bush approaches ten different life experiences that we would normally avoid and shows how they bring us nearer to Christ.
Start reading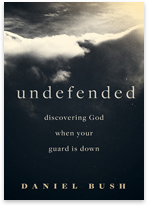 Learn more