Read on the go
Your favorite Christian ebooks are available anywhere you go with the Faithlife Ebooks mobile app. One-touch Bible references, cross-library access, searches, more.
Download now
On sale now
Save on
Christian ebooks
Shop now
Get this month's free book!
Wondrous Pursuit
Walk through 30 days of intentionally chasing after God, discovering renewed strength in moments of fast growth and careful waiting alike.
Read more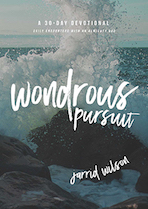 Find in-depth Bible study resources on Logos.com!
Learn more
---
Finances & Money Management