Heavenly Humor for the Mother's Soul: 75 Bliss-Filled Inspirational Readings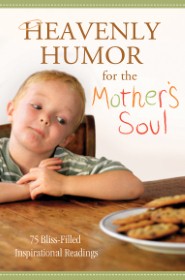 A Little Heavenly Humor Is Just What You Need, Mom! . . .
Need a good laugh? Heavenly Humor for the Mother's Soul is where you can find just the right mix of mirth and spiritual refreshment. Whether you're the mom of a preschooler, grade-schooler, or teen. . .or your babes have all flown the coop, these devotional readings will delight your heart and remind you that every moment of motherhood can be joy-filled.
Come on. . .laugh a little! God knows what a little humor can do for our hearts. After all, He did say, "A cheerful heart is good medicine" (Proverbs 17:22 niv).