Disappearing Church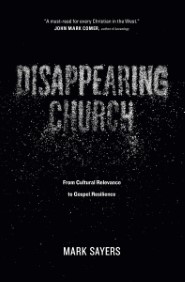 Why our churches are shrinking:
"In the discomfort between orthodox Christian faith and twenty-first century western dogma, we are tempted to do what it takes to make the pressure go away, to acquiesce on the beliefs that grate against contemporary sensibilities. Tweak, for example, your view on sexuality to be more embracing of today's mood, or move from a particularist view of Jesus to a Universalist one, and you are warmly embraced into the fold.
Thus for Christians raised under the ethic of relevance—that is, the desire to prove believers can be both holy and cool—the new pressure presented by an intolerant tolerance proves too much. Some compartmentalize their beliefs into an orthodox/secularist mashup; others simply disappear into the ghostly embrace of secularity."
– Mark Sayers
Disappearing Church is a direct answer to the most pressing question facing church leaders today: How do we reach—and keep—people in a world that keeps swallowing Christians?
Full of real stories and actionable insights, Disappearing Church offers practical wisdom for discipling in a highly secularized society. God will grow his church and protect its purity, but He will use each of us to do it. Are you up for the challenge?