Charis: God's Scandalous Grace for Us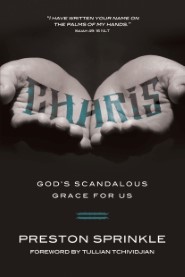 A Look at Grace from a Most Surprising Perspective – The Old Testament
Grace. We want to domesticate it, calm it down, and stuff it into a blue blazer and a pair of khakis. But biblical grace – or charis – doesn't like to settle down. Grace is a dangerous topic because the Bible is a dangerous book.
Charis flows from the Preston Sprinkle's half dozen years teaching the Old Testament to college students. You might think that would produce a book about judgment – but no way. He shows how every character, every event, every single page from the Old Testament bleeds with grace.
Take a journey into Charis - where harlots are hugged, enemies are enjoyed, and really bad people receive really good things from a Creator who stubbornly delights in undelightful people … like us.
Product Details
Title : Charis: God's Scandalous Grace for Us
Author: Sprinkle, Preston
Publisher: David C. Cook
Publication Date: 2014
ISBN: 9780781411646
About the Author
Preston Sprinkle (PhD, MDiv) is the director of Eternity Bible College's extension site in Boise, Idaho. He co-authored the New York Times bestselling Erasing Hell with Francis Chan and is the author of the recently published Fight: A Christian Case for Non-Violence. He resides in Idaho with his wife and four children.
Reviews
What other people are saying about Charis: God's Scandalous Grace for Us.