Longing for Paris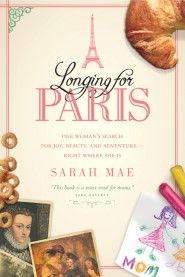 Do you ever look at your life and long for something more? When your kids are crying and there's laundry to be done and you feel emotionally and physically exhausted, do you indulge seemingly impossible dreams of escaping to a faraway place?

For Sarah Mae, it's Paris: a land of delectable food, world-class art, and breathtaking romance. A homeschooling mom, she loved dedicating herself to her family—but when her real life filled with chaos, her heart filled with longing. She wanted two lives—one content at home with her family, and another to live out the adventures she'd always imagined. And she started to wonder: Is it ever possible to find fulfillment right where we are?

In Longing for Paris, Sarah Mae looks at the root of our deepest longings and shares her own story of learning to treat every day as an adventure. Whimsical and heart-tugging, personal and rich with Scripture, this book invites you on the journey of a lifetime. Join Sarah in welcoming God into the tension of your unfulfilled longings—and you'll find Paris in your every day.