He Is My All: Living in the Truth of God's Love for Me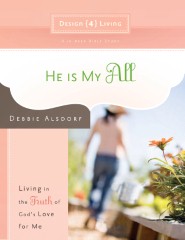 As women, we are created with an innate desire for unconditional love. And throughout our lives we seek ways to satisfy this longing in our hearts: through relationships, motherhood, and even careers. But the search for perfect love in an imperfect world can often leave us feeling heartbroken and insecure. So how do we satisfy our soul's deepest desire?
He Is My All is a ten-week journey where you will encounter a God who adores you. This study explores the hope, healing, and life-changing power found in His perfect love. Each day's selection features room for your thoughts, allowing you to journal and meditate on your personal journey. You'll find a God who loves you completely, experience His life-changing power, and embrace a deeper relationship with your heavenly father.
The Design4Living series is designed for women seeking to connect God's word with their daily life. Each guide is ideal for both individual and group study.
Product Details
Title : He Is My All: Living in the Truth of God's Love for Me
Author: Alsdorf, Debbie
Publisher: David C. Cook
Publication Date: 2012
ISBN: 9780781406079
About the Author
Debbie Alsdorf is a popular speaker and director of women's ministries at Cornerstone Fellowship in Livermore, California, where she teaches women's Bible studies and works with prison outreach and women in recovery. She is married with a blended family of four teenagers, two cats, and her beloved dog Bubba. She also wrote Steadfast Love.
Reviews
What other people are saying about He Is My All: Living in the Truth of God's Love for Me.