Restless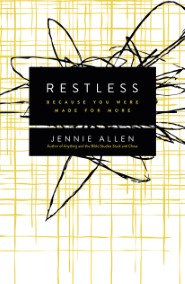 A practical plan to identify the threads of your life and how to intentionally weave them together for God's glory and purposes.
Restless explores the fact that God has called each of us to do great things in his name, and then helps us discover what that might mean for each of us individually. Jennie says, "We are called to dream but we're afraid to. But because we are called, when we don't act on it we become restless—restless to find purpose, to make a difference in the world, to matter."
Jennie doesn't suggest women add one more thing to their to-do list, but instead invites them to stop and listen where they are. She frees them to be themselves and to see themselves as valuable. In addition to this permission to dream she helps them get over themselves and their issues and then offers a simple process on highly designed journal pages to identify the raw materials—the unique threads—they've been given by digging into five areas:
• Gifts
• Suffering
• Places
• People
• Passions
Using her own story and that of women with whom she has walked through this process as examples, Jennie weaves in the story of Joseph the dreamer and how God used his threads to fit into the greater story of God. Untangling the threads of our lives and assembling them together in one place reveals a beautiful plan designed by the Creator himself: God's Agenda + my threads + the need + the Holy Spirit = my purpose
And since living out our purpose is often filled with uncertainties Jennie addresses the doubts, fears, and challenges that hold women back from what they've been called to do. This repositioning of their lives is not a promise that all things will be perfect, or will go perfectly, but a promise that it will be the start of the best part of life—the part that completes what we were made for.
About the Author
Jennie Allen is a recovering achiever who is passionate about Jesus. She is the best­selling author of Anything and Restless, and the Bible studies Stuck and Chase, as well as the founder and visionary for the million­-strong IF:Gathering, which exists to gather, equip, and unleash the next generation to live out their purpose. Jennie speaks frequently at conferences such as Catalyst and Q. She holds a master's degree in biblical studies from Dallas Theological Seminary and lives in Austin, Texas, with her husband, Zac, and their four children.