Armor of God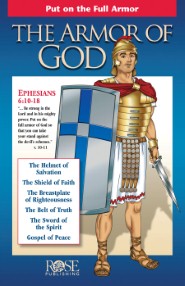 Armor of God helps bring Apostle Paul's message in Ephesians 6:10-18 to life. In less than 30 minutes, you will know the key teachings about the spiritual armor God makes available for all believers. Armor of God provides historically accurate images and descriptions of a Roman Centurion's armor, then draws important correlations to the spiritual armor God gives believers: the Belt of Truth, the Breastplate of Righteousness, Feet Prepared with Gospel of Peace, The Shield of Faith, The Helmet of Salvation, and the Sword of the Spirit.
This book will help you put on the full armor of God when you face temptations and struggles. The key to the Armor of God are the insights brought by Paul's knowledge of a Centurion's armor. Having an accurate picture of a Centurion's armor is important to understanding this portion of Scripture. Rose has accurately illustrated the Centurion's armor in the Armor of God so you can see each piece of armor, understand its historical background, and see how it applies to our spiritual battles today.
In Armor of God, you will see:
A detailed description of God's armor
Historical background on how the armor was put on and its purpose
The application of the armor to our lives today, such as how the "Belt of Truth" prepares believers to be truthful
Other biblical passages
This book also presents:
A verse-by-verse look at Ephesians 6:10-18 alongside an illustration of a Roman Centurion in full armor
Background information on Paul, his missionary journey, and life in Ephesus
Scriptural references that help you in spiritual warfare by contrasting the "Devil's Schemes" with God's armor. For example:
One of the Devil's schemes to lie. God's armor is Truth. Proverbs 14:25 is a good reminder of how God can help you stand firm.
Armor of God is an excellent personal or group study resource if you want to take a close look at Paul's description of the armor of God.