Life of the Apostle Paul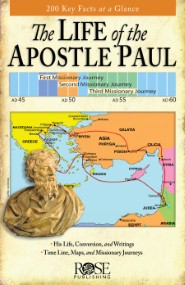 Life of the Apostle Paul contains hundreds of facts at a glance, including colorful maps of Paul's journeys, a time line of events, his letters and their messages, and much more. You can read this handy overview in about 30 minutes.
The Apostle Paul was the most prolific writer in the New Testament. Life of the Apostle Paul is an excellent study resource as you study Paul and his writings. Life of the Apostle Paul contains:
Background on Paul's (Saul's) education and his Damascus Road conversion
Maps of Paul's well-documented missionary journeys
Time line of key events in Paul's life
His writings to key churches and individuals, their topic, and date of writing
It provides information on Paul's background as a Pharisee and the many hardships he suffered on behalf of the Gospel, including:
In prison
Bitten by a snake
Stoned
Shipwrecked
Betrayed by friends
Life of the Apostle Paul includes key teachings on sin, justification, church leadership, marriage and singleness, and prayer to name a few. It also includes:
A timeline of key life and ministry events
Maps of his three missionary journeys that covered approximately seven years, collectively, as well as: The names of those who traveled with him The main routes and approximate miles traveled on each trip
A chart of Paul's writings including: The name and a key verse from each letter, which include: Galatians, 1 Thessalonians, 2 Thessalonians, 1 Corinthians, 2 Corinthians, Romans, Ephesians, Colossians, Philemon, Philippians, 1 Timothy, Titus, 2 Timothy To whom, where and when the letters were written The theme of each letter
Scriptures on the "thorn" in Paul's flesh
This book is an excellent stand-alone study or is a helpful supplement to the Book of Acts and any of Paul's epistles.