Be All You Can Be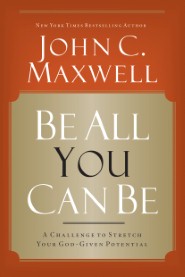 You have big dreams and major goals for your life. You want to be a leader, fulfilled and fully realized, always able to take what life throws at you and stretch beyond the status quo. But for some reason, you never quite get there. You just aren't living up to your potential, and you don't know why.
Now America's leadership expert, John Maxwell, gives you the tools you need to Be All You Can Be. In this powerful book filled with easy-to-grasp truths you can put to work right away, you'll discover the principles of success that can really help you succeed. Maxwell will guide you through four key steps:
Know: Discover the principles for fulfilling your God-given potential.
Show: Learn how to model the principles so others can see them at work.
Go: Roll up your sleeves, get out into the world, and live what you've learned.
Grow: Experience living at your full potential, continually assessing your progress.
As a result, you'll gain considerable hope for the future, which in turn will give you power to overcome in the present. Successful living and leading starts now: Accept the challenge to Be All You Can Be.
Dr. John C. Maxwell, America's leadership expert, is the New York Times best-selling author of more than forty best-selling books, including Winning with People, Thinking for a Change, Developing the Leader Within You, and The 21 Irrefutable Laws of Leadership. The founder of Injoy Stewardship Service and Maximum Impact, he dedicates much of his time to training leaders worldwide through EQUIP, a nonprofit organization, and speaks to hundreds of thousands of people each year in conferences and seminars. John and his wife, Margaret, reside in Atlanta, Georgia.