Dreaming of More for the Next Generation: Lifetime Faith Ignited by Family Ministry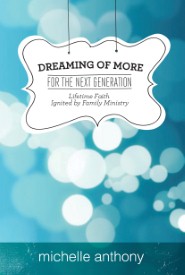 Filled with stories from one ministry professional to another, Dreaming of More for the Next Generation includes practical ways to equip parents to partner with the church in faith formation, inspiration and ideas for incorporating remembrance and celebration, creative ways to motivate children and teenagers to step out of their comfort zones and rely on the Holy Spirit, and insight into how God uses each person's life as part of a unique story that is told throughout the generations.
Dr. Michelle Anthony is Pastor of Family Ministries at ROCKHARBOR Church in Costa Mesa, California. A former professor at Biola University and Talbot School of Theology, Dr. Anthony has written over a dozen resources for Christian Education and Family/Youth Ministries. She is also the Family Ministry Architect for David C Cook. Michelle and her husband, Michael, have two children and live in Orange County, California.