The Last Temple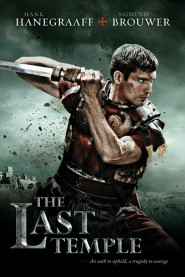 Tyndale House Publishers, Inc.
, 2012
Set in the turbulent years just before one of the most horrendous events in Jewish history, The Last Temple concludes the trilogy of The Last Disciple and The Last Sacrifice.
Vitas is reunited with his wife and retires to Alexandria, determined to live a quiet, domestic life. But he can't avoid the debts that he owes to the men who saved him, and he becomes a key figure in the plot to rid the empire of Nero. It sweeps him into the "year of four emperors," when the Roman Empire is nearly destroyed, and takes him back to Jerusalem as Titus lays siege to the great city. Only then, as the prophecy of Jesus begins to unfold, does Vitas discover the true mission set before him and the astounding conspiracy behind it.
Hank Hanegraaff serves as president and chairman of the board of the North Carolina-based Christian Research Institute International. He is the author of award-winning best sellers, including The Prayer of Jesus, Christianity in Crisis, and Resurrection, the latter providing a stirring and persuasive defense of the central event in Christianity. Hanegraaff and his wife, Kathy, live in North Carolina and are the parents of nine children—Michelle; Katie; David; John Mark; Hank, Jr.; Christina; Paul; Faith; and baby Grace—and the grandparents of five.
Whether writing youth or adult fiction, Sigmund Brouwer is a best-selling author of more than 40 fast-paced novels. Some of his works encourage young reluctant readers into the world of books, and others provide adults with riveting tales. Sigmund's diverse background surfaces in the characters of his books as he inspires kids to get excited about reading. He received a degree in journalism from Carleton College in Ottawa. Sigmund is married to Christian recording artist Cindy Morgan; the couple has two daughters. He writes five pages per day on his laptop, whether he is in an airport, hotel, or dividing his time between family homes in Red Deer and Nashville.