Final Battle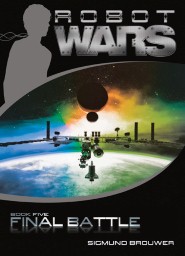 Set at an experimental community on Mars in the year 2039-2040, Robot Wars features 14-year-old virtual reality specialist Tyce Sanders. Life on the Red Planet is not always easy, but it is definitely exciting. As Tyce explores his strange surroundings, he finds that the mysteries of the planet point to his greatest discovery—a new relationship with God. He talks about his growing faith and curiosity in a manner that kids can relate to as they are probably wondering some of the same things.
Book five, Final Battle, begins with Tyce's threat to reveal his special talents to the world—much to the dismay of the rebels who want to keep the technology a secret. Tyce has to battle the rebels and their plot while trying to return to Mars. The success of the entire Mars Project depends on his every move.
Whether writing youth or adult fiction, Sigmund Brouwer is a best-selling author of more than 40 fast-paced novels. Some of his works encourage young reluctant readers into the world of books, and others provide adults with riveting tales. Sigmund's diverse background surfaces in the characters of his books as he inspires kids to get excited about reading. He received a degree in journalism from Carleton College in Ottawa. Sigmund is married to Christian recording artist Cindy Morgan; the couple has two daughters. He writes five pages per day on his laptop, whether he is in an airport, hotel, or dividing his time between family homes in Red Deer and Nashville.