A Lineage of Grace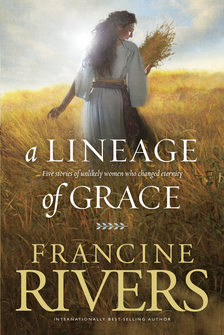 Tyndale House Publishers, Inc.
, 2012
2009 Retailer's Choice Award winner!
In this compilation of the five books in the best-selling Lineage of Grace series by Francine Rivers, we meet the five women whom God chose—Tamar, Rahab, Ruth, Bathsheba, and Mary. Each was faced with extraordinary—even scandalous—challenges. Each took great personal risk to fulfill her calling. Each was destined to play a key role in the lineage of Jesus Christ, the Savior of the World.
Product Details
Title : A Lineage of Grace
Author: Rivers, Francine
Publisher: Tyndale House Publishers, Inc.
Publication Date: 2012
ISBN: 9781414357478
Reviews
What other people are saying about A Lineage of Grace.