A Lineage of Grace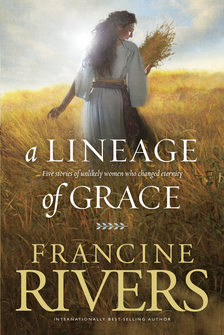 Tyndale House Publishers, Inc.
, 2012
In this compilation of the five books in the best-selling Lineage of Grace series by Francine Rivers, we meet the five women whom God chose—Tamar, Rahab, Ruth, Bathsheba, and Mary. Each was faced with extraordinary—even scandalous—challenges. Each took great personal risk to fulfill her calling. Each was destined to play a key role in the lineage of Jesus Christ, the Savior of the World.
Francine Rivers began her literary career at the University of Nevada, Reno, where she graduated with a bachelor of arts degree in English and journalism. From 1976 to 1985, she had a successful writing career in the general market, and her books were highly acclaimed by readers and reviewers. Although raised in a religious home, Francine did not truly encounter Christ until later in life, when she was already a wife, a mother of three, and an established romance novelist. Shortly after becoming a born-again Christian in 1986, Francine wrote Redeeming Love as her statement of faith. This retelling of the biblical story of Gomer and Hosea, set during the time of the California Gold Rush, is now considered by many to be a classic work of Christian fiction. Francine and her husband, Rick, live in northern California and enjoy time spent with their three grown children and taking every opportunity to spoil their grandchildren. Francine uses her writing to draw closer to the Lord, and she desires that through her work she might worship and praise Jesus for all He has done and is doing in her life.
Reviews
What other people are saying about A Lineage of Grace.