Blue Ruin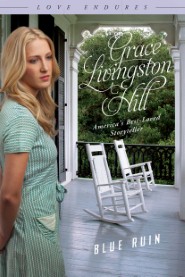 "If she only, only could get away and hide, far, far, far away till that terrible, cheap girl was gone!"
The path couldn't be clearer for Dana Whipple and Lynette Brooke. Close throughout childhood, the two have always envisioned their future life—and love—together. Then Dana returns home from seminary a changed man whose goal is to instill some "poise" in Lynette so she will be the appropriate compliment to his as yet illustrious career. Although she's disturbed by Dana's changed demeanor, Lynette clings to the love that once existed between them . . . until a brazen young woman shows up as a guest at the Whipple house for the summer. Suddenly Jessie "Belle" Smith's childlike flirtation starts to create a rift in Dana and Lynette's childhood romance.
At her mother's insistence, Lynette heads to Europe trusting God to sort out the problems back home while Dana heads deeper into trouble. But will their love remain strong—or fall to ruin?
Grace Livingston Hill (1865-1947) is known as the pioneer of Christian romance. Grace wrote over one hundred faith-inspired books during her lifetime. When her first husband died leaving her with two daughters to raise, writing became a way to make a living, but she always recognized storytelling as a way to share her faith in God. She has touched countless lives through the years and continues to touch lives today. Her books feature moving stories, delightful characters, and love in its purest form. Grace Livingston Hill began writing stories in 1877 at the tender age of twelve and didn't stop until her death in 1947. But what may be more amazing is that she has sold over 84 million copies and is still loved by young and old alike.