Fame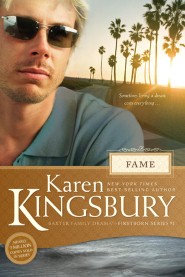 Tyndale House Publishers, Inc.
, 2011
A fresh new look for the bestselling Firstborn series—the second installment in the continuing Baxter Family Drama from America's number one inspirational novelist, Karen Kingsbury. Revisit the Baxter family in all their life-changing events, or share the series with someone who hasn't discovered it yet.
In this first book, Hollywood A-lister Dayne Matthews returns to LA after his shocking discovery in Karen's bestselling novel Reunion. Though his life is filled with fame, fortune, and paparazzi, his heart is pulling him toward a woman and a family who have no idea how their lives are tied to his. Meanwhile, Katy Hart has finally found contentment as the director of Christian Kids Theater in Bloomington, Indiana. But that changes in an instant when she meets Dayne Matthews and he promises a future she left in her past.
USA Today and New York Times bestselling author Karen Kingsbury is America's #1 inspirational novelist. She has written more than forty Life-Changing Fiction titles, ten of which have hit #1 on national lists. There are more than 15 million copies of her award-winning books in print, including several million copies sold in the past year. Dubbed by Time magazine as the Queen of Christian Fiction, Karen has a true love for her readers. She has more than 200,000 friends on Facebook and more than 15,000 followers on Twitter. The popular social networking sites have allowed Karen daily interaction with her reader friends. Her fiction has made her one of the country's favorite storytellers, and several of her novels are under production for upcoming major motion picture releases. Her emotionally gripping titles include the popular Baxter Family Drama—the Redemption, Firstborn, and Sunrise series—the Above the Line series, Divine, Unlocked, Beyond Tuesday Morning, and Ever After. Karen and her husband, Don, live in the Pacific Northwest and are parents to six children, including three adopted from Haiti.
Reviews
What other people are saying about Fame.