Leaving Lancaster: A Novel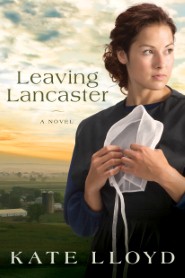 Can a splintered Amish family reconcile?
More than anything else, thirty-something Holly Fisher longs for family. Growing up in Seattle without a dad or grandparents, she wonders what it would be like to have a heritage, a place of belonging. Holly is furious when her mother, Esther, reveals a long-kept secret: Holly's grandmother and uncles are still alive and begging Esther to return. And Holly is shocked when she learns that the family she's never known lives on a Lancaster, Pennsylvania, farm—as part of an Amish community her mother once abandoned.
Guilt-ridden Esther, terrified to see her mother and siblings, begs Holly to accompany her on a visit to Esther's mother before she dies. But can their journey to a conflicting world heal their emotional wounds and finally bring them home?
Set in the heart of contemporary Lancaster County, Leaving Lancaster explores the power of forgiveness, family reconciliation, and love where least expected.
Kate Lloyd is a Maryland native, born in Baltimore, who now calls the Pacific Northwest home. She is married to Dr. Noel G. Lloyd, a noted motivational speaker and chiropractic management consultant. Kate is the proud mother of two grown sons, Bryan and Chris, and holds a BA in Art with a minor in Art History from the University of Washington and Western Washington University. Writing is her passion.
Reviews
What other people are saying about Leaving Lancaster: A Novel.