Why Can't He Be More Like Me?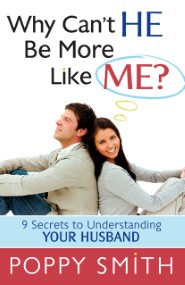 Harvest House Publishers
, 2012
"What do you and your spouse have in common?"
"We got married on the same day."
Many women can identify with that sentiment. They want their marriages to be happy and honoring to God, but they wonder how when their mate baffles and even irritates them so. Some may even wonder if they made a terrible mistake.
Using Scripture, humor, and colorful illustrations from her own struggles, Poppy Smith offers hope in this upbeat, personal, practical, biblically grounded, and empathetic book. Why Can't He Be More Like Me? will help women analyze areas of marital conflict by reviewing their backgrounds, parenting personalities, expectations, needs, and reactions. Each chapter provides practical tools to help women learn to accept and enjoy their mate, resulting in a strengthened relationship, better communication, and deeper understanding of each other.
With its how-to emphasis, this book is a useful resource for classes, small groups, or seminars for wives and couples.
Poppy Smith was born in England and grew up there and in Sri Lanka, Singapore, and Kenya. She is the author of three books, including the bestselling I'm Too Young to Be This Old. A teaching leader with Bible Study Fellowship for several years, she now ministers extensively as a retreat and conference speaker both in the U.S. and around the world. She has a master's degree in spiritual formation and direction from George Fox Seminary.
Reviews
What other people are saying about Why Can't He Be More Like Me?.