Trusting God When Times Are Tough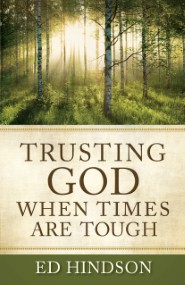 Harvest House Publishers
, 2011
No matter what you may be facing, God is there to help you. This message resonates throughout this encouraging resource from respected author and Bible teacher Ed Hindson. In an inspiring new chapter about his recent personal illness and brush with death, Hindson compassionately communicates how God's grace does not keep us from hardships but helps us through our tough times.
As readers struggling with rejection, guilt, fear, depression, temptation, disappointment, and more realize that God is always near, they will begin to:
Face crises with confidence
Turn problems into opportunities
Conquer anxiety, stress, and feelings of failure
Set realistic goals for change
Rest in God's strength in every situation
A strong, biblical resource that offers a new outlook on life's disappointments and hurts. Includes a special reference guide that looks at key difficulties people face and the Bible's answers to those problems.
Rerelease of God Is There in Tough Times.
Ed Hindson is the Assistant Chancellor and Dean of the Institute of Biblical Studies at Liberty University in Virginia. He also serves as the speaker on The King Is Coming telecast and has authored and served as general editor for numerous books. He holds a DMin from Westminster Theological Seminary and a PhD from the University of South Africa.
Reviews
What other people are saying about Trusting God When Times Are Tough.