A Woman's Passionate Pursuit of God: Creating a Positive and Purposeful Life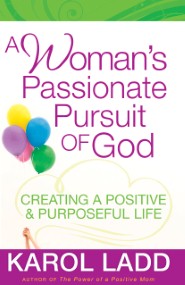 Karol Ladd, author of the bestselling The Power of a Positive Mom, shares a passionate exploration of Philippians with women who are longing to love God and life.
With humorous stories, keen biblical understanding, and engaging examples Karol encourages women to live with intention and joy and reveals how they can:
Enjoy being a work in progress
Uplift others with sincerity
Change their thoughts and change their lives
Find strength when they are losing heart
Discover contentment in every situation
Karol's trusted guidance and infectious enthusiasm will help women fall more deeply in love with God and His Word as His plan for their lives becomes more meaningful and possible than ever before. Insightful, leading questions make this a great resource for individual or group study.
Karol Ladd is a gifted Bible teacher and a bestselling author. Her more than 30 releases include A Woman's Passionate Pursuit of God book and DVD, A Woman's Secret for Confident Living book and DVD, and The Power of a Positive Woman. Known as "The Positive Lady," she is a popular speaker and a frequent guest on radio and television. Her most valued role is that of wife and mother.