Laurie's Story: Discovering Joy In Adversity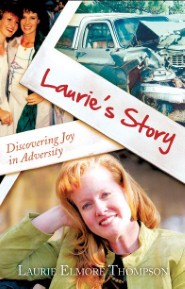 Ambassador International
, 2011
Laurie Thompson should be in a wheelchair—in fact, she should be dead. At 14 a drunk driver smashed into the truck Laurie was riding in, throwing her from the vehicle and into a wheelchair. Laurie dipped into depression, devastated by the idea of a future filled with struggle. Eventually Laurie found triumph through the Lord, and it's adversity that's brought her closer to Him.
"Laurie has chosen to use her unique, challenging life experiences to write an honest perspective that speaks to the faithfulness of God no matter what our circumstances."—Christine Hillesheim, Director, Joni & Friends Charlotte
"Laurie s Story: Discovering Joy in Adversity powerfully communicates the story of a young woman's struggle to overcome a tragic accident which left her paralyzed from the waist down. The vulnerability with which she shares her journey will cause the reader's heart to ache with empathy. Yet, her focus on the grace of God draws one's eyes heavenward to gaze upon the All Sufficient One."—Bill Jones, DMin President, Columbia International University
Laurie Elmore Thompson is a published author, inspirational speaker, Bible teacher, singer, and songwriter. She and her husband, Kevin, reside in Anderson, SC along with their three children.