Solitary: A Novel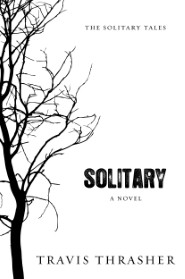 This first book in the Solitary Tales suspense series from Travis Thrasher reminds teen readers that darkness cloaks both danger and redemption.
When Chris Buckley moves to Solitary, North Carolina, he faces the reality of his parents' divorce, a school full of nameless faces—and the mysterious Jocelyn Evans. Chris soon learns that Jocelyn and her town have deep—and terrifying-secrets. As he slowly begins to understand the horror, the question becomes whether he can save Jocelyn in time. Solitary will take readers from the cold halls of high school to the dark rooms of an abandoned cabin—and remind us of what it means to believe in what you cannot see.
In his debut novel for teens, Travis Thrasher furthers his reputation of having the writing ability to scare the wits out of his audience while challenging them.
The author of a dozen works of fiction, including Isolation and Ghostwriter, Travis Thrasher has been writing since he was in the third grade. His writing is known for its honesty, depth, and surprising twists. Thrasher lives with his wife and daughter near Chicago.
Reviews
What other people are saying about Solitary: A Novel.