Freedom From the Lies You Tell Yourself (Ebook Shorts)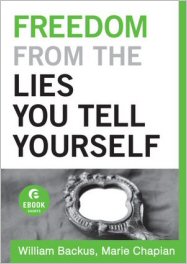 Bethany House Publishers
, 2011
Wrong thinking produces unhealthy emotions, unhealthy reactions, unhealthy behavior—and unhappiness!
Learning to deal with your thoughts is the first step on the road to healthy thinking. In this book Dr. William Backus and Dr. Marie Chapian explain the life-changing method they call "Misbelief Therapy." It's remarkably simple, incredibly effective, and thoroughly biblical. It has helped thousands of people for many years, and it can help you too!
This is a selection from Dr. Backus's and Dr. Chapian's Telling Yourself the Truth.
William Backus, Ph.D., founded the Center for Christian Psychological Services. Before his death in 2005, he was a licensed consulting psychologist and an ordained minister of the gospel. He wrote many books, including the bestselling Telling Yourself the Truth (coauthored with Marie Chapian).
Marie Chapian, PhD, is known around the world as an author and speaker. She also is a Christian counselor and a familiar personality to radio and TV audiences. She has written more than thirty books, including the bestsellers Telling Yourself the Truth and Free to Be Thin. She founded Marie Chapian Ministries in 1982 to teach and equip the body of Christ. She lives in Southern California.