The Gospel Unplugged: Good News Plain and Simple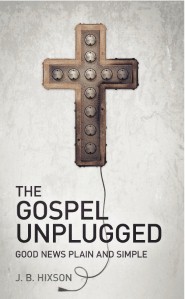 With all of the bad news in the world today, people are searching for answers. Where can you turn to find perspective and hope? Isn't there some good news in the middle of all of this bad news? The answer is a resounding "Yes!" This book presents amazing good news—good news that transcends everything in life. It is a timeless truth with eternal ramifications revealed by the Creator Himself. It is called the Gospel.
"In The Gospel Unplugged, Dr. J. B. Hixson does what he does best: he takes off his cap and gown. In removing the academic regalia, Dr. Hixson's book revolves around a preposition. He does not talk at you; he does not talk down to you. He talks neither above you nor beyond you; In The Gospel Unplugged, Dr. Hixson converses with you. J. B. Hixson has that rare ability to write as if only you and he were seated at the local diner sharing a burger, a coke, and an enriching conversation. But believe me, after reading The Gospel Unplugged, you'll be both nourished and chewing on this meal for a long, long time."—Michael D. Halsey, DMinPresident of Free Grace Seminary and author of Truthspeak
J. B. Hixson serves as the Vice President of Academic Affairs at Grace School of Theology in The Woodlands, Texas, where he teaches in the Systematic Theology Department. Additionally, Dr. Hixson is a National Conference Speaker for Logos Bible Software. He earned his B.A. degree from Houston Baptist University, Th.M. degree from Dallas Theological Seminary, and Ph.D. degree from Baptist Bible Seminary. Dr. Hixson has been involved in pastoral and academic ministry since 1987. He is the author of the book Getting the Gospel Wrong and numerous theological journal articles. J. B. and his wife Wendy live with their six children in the Houston, Texas area. For more information about Dr. Hixson's ministry, please visit www.notbyworks.org.