Blessed by God in Satan's World: How All Things Are Working for Your Good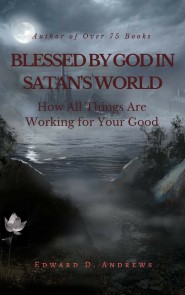 Christian Publishing House
, 2018
All of us will go through difficult times that we may not fully understand. The apostle Paul wrote, "in the last days difficult times will come." (2 Tim. 3:1) Those difficulties are part of the human imperfection (Rom. 5:12) and living in a fallen world that is ruled by Satan (2 Cor. 4:3-4). But when we find ourselves in such a place, it's crucial that we realize God has given us a way out. (1 Cor. 10:13) Edward Andrews writes that if we remain steadfast in our faith and apply God's Word correctly when we go through difficult times, we will not only grow spiritually, but we will see how all things work together for our good. Through practical applications and scriptural insight, BLESSED IN SATAN'S WORLD focuses on how to draw closer to God (Jam. 4:4) and trusting in God when life may not seem to make sense.
The flower on the book cover represents the idea that one can be blessed by God EVEN IN a fallen world that has Satan as it's ruler and even while they are in the fallen flesh. The dark image of the cover represents just how surrounded we are (i.e., the flower) by Satanic influence and the independent spirit of the unbelievers.
Product Details
Title : BLESSED BY GOD IN SATAN'S WORLD: How All Things Are Working for Your Good
Author: Andrews, Edward D.
Publisher: Christian Publishing House
Publication Date: 2018
ISBN: 9781945757884
Reviews
What other people are saying about Blessed by God in Satan's World: How All Things Are Working for Your Good.