Confessions of an Adoptive Parent: Hope and Help from the Trenches of Foster Care and Adoption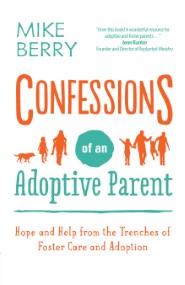 Harvest House Publishers
, 2018
Know That You Are Not Alone on This Journey
Adopting or fostering a child brings its own unique set of challenges only another parent facing the same uphill climb could possibly understand. From parenting children with traumatic pasts, to dealing with attachment issues, to raising a child with special needs, it can sometimes be a struggle just getting through the day.

Mike Berry knows the loneliness and isolation you can easily feel in your particular parenting role—because he's been there. He's still there, and he wants to give you the hope and encouragement you so desperately need.

There are plenty of how-to guides out there on parenting, but this one-of-a-kind book is specifically designed to address your needs as a parent of an adopted or foster child. With a refreshing dose of honesty, empathy, and care, you'll discover you are definitely not alone on your journey and God has a very special plan for you and your family.
Praise for Confessions of an Adoptive Parent
"As an adoptee, I'm always a little leery of books about adoption because I don't know what angle they will take. Will they make adoptees sound like problem children? Will they come across bleak or disparaging? But after reading this book, I feel refreshed and encouraged. It's real and honest but filled with hope. I recommend it to any foster or adoptive parent (as well as adoptees!)."
—Tony Wolf, author of Serve One
"As the father of three biological children, I never knew the challenges or the amazingness of being an adoptive or foster parent. In Confessions of an Adoptive Parent, Mike takes you on a journey filled with hope and accurately captures the beauty of being an adoptive parent. You will laugh, you will cry, and you will be filled with a sense of deep hope. It's a must-read for anyone on this journey, or considering it!"
—Jackie Bledsoe, speaker and author of The 7 Rings of Marriage
"With rare transparency, Mike Berry reveals the raw realities of parenting adopted and foster kids. What a gift to adoptive parents to find validation and know they are not alone! This is a must-read for every adoptive and foster parent who needs edification and encouragement. Highly recommended."
—Sherrie Eldridge, author of 20 Things Adopted Kids Wish Their Adoptive Parents Knew
Product Details
Title : Confessions of an Adoptive Parent: Hope and Help from the Trenches of Foster Care and Adoption
Author: Berry, Mike
Publisher: Harvest House Publishers
Publication Date: 2018
ISBN: 9780736970846
About the Author
Mike Berry is cocreator of the award-winning blog Confessions of an Adoptive Parent and the adoptive and foster support site Oasis Community. He's also a contributing writer for Disney's babble.com and TheGoodMenProject.com. Mike and his wife, Kristin, have cared for dozens of children through foster care and have adopted all eight of their children.
Reviews
What other people are saying about Confessions of an Adoptive Parent: Hope and Help from the Trenches of Foster Care and Adoption.