Brave Moms, Brave Kids: A Battle Plan for Raising Heroes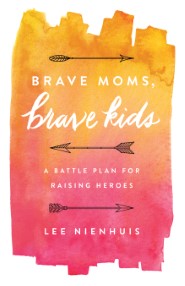 Harvest House Publishers
, 2018
Hey, Mama
This world feels like it's spinning faster every day. As the darkness has crept in, your brave prayers may have given way to fearful pleas that your kids would experience God's kingdom—in a safe and comfortable way.

This generation needs heroes of the faith and your child can be one of them, but that will require you to be strong and BRAVE. You and I must call out the bold Christ followers within our children and help them face the unknown future with divine confidence.

Brave Moms, Brave Kids is an equipping tool that will help you...
identify the qualities present in true greatness
reject "mommy fears" and replace them with immovable truth
learn strategies for praying for and training your children more effectively
develop seven key lessons we must teach our children to live for Jesus
Courage starts with you, Mama. If you're going to raise a hero, you must become a hero—because brave kids need brave moms. Let's do this, together.
Love,
Lee
Praise for Brave Moms, Brave Kids
"Lee beautifully weaves together spiritual insights and real-life stories that will give you hope! She provides sound practical advice and supplies Biblical tools that will help you gain confidence to be a brave mom in raising your children to be Jesus lovers and followers. Get ready to laugh, cry, be challenged and receive giant doses of encouragement. A timely word for today moms—don't miss it!"
—Fern Nichols, founder, Moms in Prayer International
"Lee gives an honest look at a young mom's fears, worries and imperfections. Real life situations that bombard us. Yet she powerfully shares how we all can become the hero our children need so they can become the heroes this world needs. Her teaching is rich and deep in God's truth. Take your time and let your heart be transformed. Become the brave mom you want to be and leave fear behind. This is a book you will want to read again! A book every young mom needs!"
—Sally Burke, president, Moms in Prayer International, and author of Unshaken
"Brave Moms, Brave Kids will be my new go-to book to encourage moms about raising faith-filled kids. Lee combines passionate, personal experience with practical application, approachability, and scriptural truth! It will change the way you parent and give you hope that you can still raise modern-day heroes of the faith."
—Marlae Gritter, director of global advancement, Moms in Prayer International
Product Details
Title : Brave Moms, Brave Kids: A Battle Plan for Raising Heroes
Author: Nienhuis, Lee
Publisher: Harvest House Publishers
Publication Date: 2018
ISBN: 9780736970044
About the Author
Lee Nienhuis is a passionate Bible teacher whose love for the Lord and the Word is contagious. She is an area coordinator for Moms in Prayer International and a sought-after speaker who shares a dynamic vision for the next generation of Christ followers. Lee and her farmer-husband, Mike, have four kids and live on four acres of grass in West Michigan.
Reviews
What other people are saying about Brave Moms, Brave Kids: A Battle Plan for Raising Heroes.