Back on Murder (A Roland March Mystery Book #1)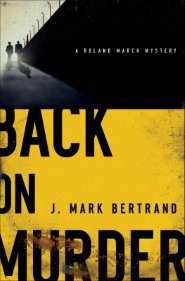 Bethany House Publishers
, 2010
Det. Roland March is a homicide cop on his way out. But when he's the only one at a crime scene to find evidence of a missing female victim, he's given one last chance to prove himself. Before he can crack the case, he's transferred to a new one that has grabbed the spotlight--the disappearance of a famous Houston evangelist's teen daughter.

With the help of a youth pastor with a guilty conscience who navigates the world of church and faith, March is determined to find the missing girls while proving he's still one of Houston's best detectives.
Product Details
Title : Back on Murder (A Roland March Mystery Book #1)
Author: Bertrand, J. Mark
Publisher: Baker Publishing Group
Publication Date: 2010
ISBN: 9781441211897
About the Author
J. Mark Bertrand is the author of the crime novel BACK ON MURDER (Bethany House, 2010), the first in a series featuring Houston homicide detective Roland March. He earned his MFA in Creative Writing from the University of Houston and now lives in South Dakota with his wife Laurie.
Reviews
What other people are saying about Back on Murder (A Roland March Mystery Book #1).