What's Your Story? Leader Guide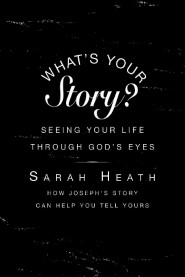 The leader guide provides additional background on the Joseph narrative and the story-based framework the author uses, along with a lesson plan for each chapter that includes deeper questions and group activities.
What's Your Story helps you understand your life as part of a bigger narrative by seeing it through God's eyes. This four-session small group study focuses on the Joseph story (Genesis 37-50), exploring connections between Joseph's life and the lives of Christians today. Author Sarah Heath shows how Joseph realizes his deeply rooted identity, understands his past, and learns to see his life through God's eyes. The book contains opportunities and space for creative journaling, to encourage you to explore your own life story in the same way. Joseph accomplishes great things in Egypt, but only when he sees his story as a part of God's story does he truly recognize the significance of what he has done and what God is doing through him. In exploring these dimensions of the Joseph story, you will discover how to see your own life through God's eyes, learning how you might co-create with God the kind of life that would be a page-turner.
Inside the study you will find:
• Reflections from the author about the Joseph story in Genesis 37-50.
• Insights into how to read and tell the story of your life as a part of God's story.
• Questions and prompts for creative response to help you consider and map your life story.
• Journaling space with inspiring art from the author.
The accompanying video, available in DVD and streaming formats, features individual stories that illuminate the Joseph story, illustrate the main ideas of each session, and spark further reflection and discussion. By seeing your story—with its ups and the downs—as part of God's story, you will find deep meaning in your life, and you will be inspired to tell your story to others as a way of witnessing to God's love and presence in the world.