Heroes of Babylon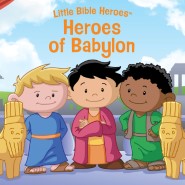 Kids love a great hero story, and there's no better place to find them than the Bible. This one is about three young heroes of Babylon—Shadrach, Meshach, and Abednego—and how they were saved from the fiery furnace.
Each Little Bible Heroes™ story tells of bravery, faithfulness, and kindness—straight from the Bible and perfect for little hero-loving hearts! Collect the entire series:
Creation
Noah 
Miriam
Daniel 
Joshua
Rahab 
Samuel
The Little Maid
David
Esther 
Joseph
The Good Samaritan 
Christmas
Easter 
Jesus' Miracles
Martha 
Elijah
John the Baptist 
Heroes of Babylon
Ruth
The Little Giver
Zacchaeus 
Peter
Paul 
Product Details
Title : Heroes of Babylon
Authors:

Kovacs, Victoria
Ryley, David

Publisher: B&H Publishing Group
Publication Date: 2016
ISBN: 9781433643798
Reviews
What other people are saying about Heroes of Babylon.