Communication: Key to Your Marriage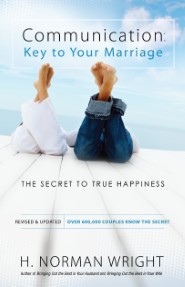 Bethany House Publishers
, 2000
What does it take to make a marriage intimate, loving, and fun? It all starts with communication, the key to a vibrant, happy, lifelong partnership. In this new updated edition of the bestselling classic, trusted marriage and family counselor Dr. Norman Wright does not just show readers the different ways men and women communicate. He shows how to do it right! Readers will find practical ways to reduce marital conflict, manage anger, build up one another's self-esteem, and listen and understand each other at deeper and more satisfying levels. This updated edition also includes all-new reflection questions at the end of each chapter for couples or groups.
 
Product Details
Title : Communication: Key to Your Marriage: The Secret to True Happiness
Author: Wright, H. Norman
Publisher: Baker Publishing Group
Publication Date: 2000
ISBN: 9781441267672
About the Author
Dr. H. Norman Wright is a grief and trauma therapist and a licensed marriage, family, and child therapist. He has been on the faculty at Biola University and Talbot School of Theology, where he taught graduate students in counseling and psychology for four decades. He has authored more than 80 books, including the bestsellers Always Daddy's Girl and Before You Say I Do. Norman and his wife, Tess, live in Bakersfield, California.
Reviews
What other people are saying about Communication: Key to Your Marriage.