An Approach to Extended Memorization of Scripture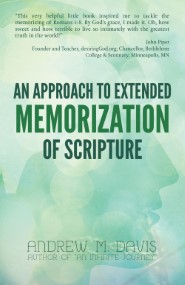 Ambassador International
, 2014
Prepare to embark on one of the most rewarding exercises of spiritual and mental labor anyone could ever attempt.
Many Christians have at least a few bible verses committed to memory, but An Approach to Extended Memorization of Scripture encourages Christians to ramp up Scripture memorization. Daily procedures and techniques guide the reader through memorizing entire chapters and books of the bible at one time.
Author and pastor Andrew Davis has used these proven methods to commit 35 books of the bible to memory over the course of his ministry.