Morning and Evening: Daily Readings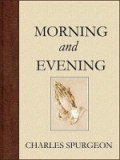 Passmore & Alabaster
, 1896
Overview
This has been the classic daily devotional for thousands of Christians for over a century. Each day's devotions are available to you from the browser. Choose today's devotion and it will bring up the appropriate devotion tied to that day and time based on your computer's internal clock, or look forward or backward through the 732 inspirational devotions and read Spurgeon's thoughts for any day of the year. Expand your searches to include Spurgeon's Morning and Evening and when you do a search on a scripture that he has expounded on your search results will bring his insight into your study.
Product Details
Title: Morning and Evening: Daily Readings
Author: Charles Spurgeon
Publisher: Logos Research Systems
Publication Date: 1995
Pages: 468
Reviews
What other people are saying about Morning and Evening: Daily Readings.