Jesus, the One and Only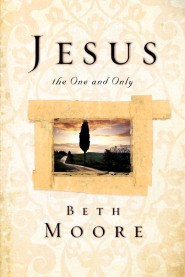 In Jesus, the One and Only, best-selling author and Bible teacher Beth Moore invites you to know Christ personally. Watch and listen as He breaks up a funeral by raising the dead, confronts conniving religious leaders of His day, teaches on a Galilean hillside, or walks on the waves and calms the storm.

Like a ragtag band of followers two thousand years ago, you will never be the same again after such an up close and personal encounter.

"He is Jesus, the One and Only, transcendent over all else," writes Moore. "To know Him is to love Him. To love Him is to long for Him. To long for Him is to finally reach soul hands into the One true thing we need never get enough of . . . Jesus Christ. He's all you need."