The Real Enemy: A Novel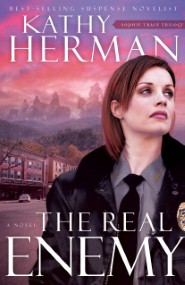 Brill Jessup becomes the first female police chief in Sophie Trace, Tennessee and is riding on the credentials of a stellar eighteen-year-career on the Memphis Police Force. She may be a pro at finding clues, but she ignores the obvious in her personal life. Her husband, Kurt, is weighed down by her unrelenting anger as he struggles to let God redeem the stupidest mistake he ever made. Brill hides behind her badge and her bitterness, deciding that moving her family away from Memphis is the only change she needs to make.
Before she has time to unpack her boxes, people start disappearing. Lots of them. To complicate matters, a local legend has many residents believing that the cause is unearthly—tied to the "red shadows," or spirits of the departed Cherokee who once inhabited the land. While Brill draws on all of her experience and instinct to solve the case, she must confront an enemy that threatens everything she holds dear—one that cannot be stopped with a badge and a gun.
Product Details
Title : The Real Enemy: A Novel
Author: Herman, Kathy
Publisher: David C. Cook
Publication Date: 2009
ISBN: 9781434702333
About the Author
Best-selling suspense novelist Kathy Herman has written eighteen novels since retiring from her family's Christian bookstore business. She has written the best-selling Sophie Trace series – The Real Enemy, The Last Word, and The Right Call, and False Pretenses, the first book in the Secrets of the Roux River Bayou series. She and her husband, Paul, have three grown children and five grandchildren live in Tyler, Texas.
Reviews
What other people are saying about The Real Enemy: A Novel.