YOUthwork: Let God Use Your Influence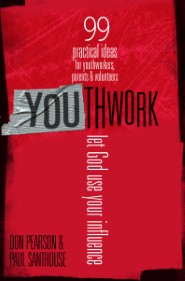 Are the young people in your church coming to faith in Christ?  Are they following Him as disciples?  The elders and leaders of every church should be able to answer "yes" to both questions.  It's a crucial aspect of their role as shepherds.  So how can a group of men confidently affirm that their young people are growing mature in Christ?

This is the purpose of YOUthWORK.  Featuring hard-won insights and proven strategies drawn from twenty-five years of working with thousands of students, this practical guide will equip parents, volunteers, and full-time youth workers to shepherd young people toward maturity in Christ.  It provides church leaders with a framework for understanding the how's and why's of youth ministry and features dozens of hands-on ideas for ministry.
Contents
TABLE OF CONTENTS:

In The Beginning...

1. Invest

2. Strategize

3. Disciple Students

4. Cultivate Groups

5. Prioritize

6. Take Trips

7. Be Smart with Money

8. Be Prepared for Deviance

9. Involve Parents

10. Develop Strong Leaders

One Last Thing...
Product Details
Title : YOUthwork: Let God Use Your Influence
Authors:

Pearson, Don
Santhouse, Paul

Publisher: Moody Publishers
Publication Date: 2009
ISBN: 9781575673554
About the Authors
In his twenty-plus years of youthwork, DON PEARSON has been kicked out of restaurants, left kids behind in airports, lost ten thousand dollars on a single event, totaled a borrowed vehicle, and caught a sailboat on fire. The ministry he oversees has lost kids in the mountains, driven a bus through a glass toll booth in Mexico with armed guards pointing machine guns at the windows, and rescued kids getting stung by jellyfish in the dark waters off the Spanish Virgin Islands. During this time, God has faithfully extended the range of his ministry from six kids in the eighties to over six hundred today. A graduate of Moody Bible Institute, Cornerstone University, and Grand Rapids Baptist Seminary, Don now spends most of his time overseeing the youth ministry of Blythefield Hills Baptist Church. His emphasis is on reaching, discipling, and equipping young people for spiritual leadership in the church and the world. Don and his wife have three grown children and reside near Grand Rapids, Michigan.

A graduate of Moody Bible Institute, PAUL SANTHOUSE currently serves as its Vice President of Publications, and Publisher at Moody Publishers. The parents of five married children and a brood of grandchildren, Paul and his wife, Rebecca, live in Chicago where they enjoy easy access to major airports.
Reviews
What other people are saying about YOUthwork: Let God Use Your Influence.