Pearl in the Sand: A Novel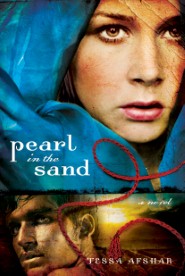 Can a Canaanite harlot who has made her livelihood by looking desirable to men make a fitting wife for one of the leaders of Israel? Shockingly, the Bible's answer is yes.  

Pearl in the Sand tells Rahab's untold story. Rahab lives in a wall; her house is built into the defensive walls of the City of Jericho. Other walls surround her as well—walls of fear, rejection, unworthiness.

A woman with a wrecked past; a man of success, of faith … of pride; a marriage only God would conceive!  Through the heartaches of a stormy relationship, Rahab and Salmone learn the true source of one another's worth and find healing in God.

Praise for Pearl in the Sand
In Pearl in the Sand, Tessa Afshar has created compelling characters that bring new meaning to this well-loved biblical tale.
-- Jill Eileen Smith, bestselling author of Michal and Abigail

Pearl in the Sand, the story of Rahab the harlot who became an ancestor of Christ, delivers a very powerful truth within its pages: forgiveness, redemption, and the changing power of God. An unforgettable read, Novel Journey and I give a high recommendation.
--Ane Mulligan, Editor, Novel Journey

Product Details
Title : Pearl in the Sand: A Novel
Author: Afshar, Tessa
Publisher: Moody Publishers
Publication Date: 2010
ISBN: 9781575679341
About the Author
TESSA AFSHAR was voted "New Author of the Year" by the Family Fiction sponsored Reader's Choice Award 2011 for her novel Pearl in the Sand. She was born in Iran, lived there for the first fourteen years of her life, and attended an English boarding school for girls before moving to the United States permanently. Her conversion to Christianity in her twenties changed the course of her life forever. Tessa holds an MDiv from Yale University where she served as cochair of the Evangelical Fellowship at the Divinity School. She has spent the last twelve years in full- and part-time Christian work.
Reviews
What other people are saying about Pearl in the Sand: A Novel.