Sacred Pathways: Discover Your Soul's Path to God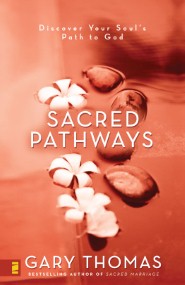 'Thou Shalt Not Covet Thy Neighbor's Spiritual Walk.' After all, it's his, not yours. Better to discover the path God designed you to take--a path marked by growth and fulfillment, based on your unique temperament. In Sacred Pathways, Gary Thomas strips away the frustration of a one-size-fits-all spirituality and guides you toward a path of worship that frees you to be you. If your devotional times have hit a snag, perhaps it is because you're trying to follow someone else's path. This book unfolds nine distinct spiritual temperaments--their traits, strengths, and pitfalls. In one or more, you will see yourself and the ways you most naturally express your relationship with Jesus Christ. Whatever temperament or blend of temperaments best describes you, rest assured it's not by accident. It's by the design of a Creator who knew what he was doing when he made you according to his own unique specifications. Sacred Pathways will show you the route you were made to travel, marked by growth and filled with the riches of a close walk with God.
Reviews
What other people are saying about Sacred Pathways: Discover Your Soul's Path to God.