Heaven: Your Real Home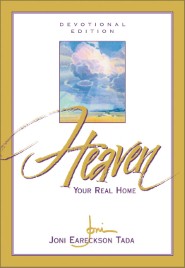 An attractive gift book of 100 joyful meditations on the nature of heaven, our hearts' true home.We all think about heaven--or at least we wonder what will happen to us after we die. For the Christian, these should be comforting, exciting thoughts. In this beautiful devotional gift book, Joni Eareckson Tada has chosen short excerpts from her book, Heaven, and arranged them around common topics such as: Where is heaven and what is it like? What will we do in heaven? Each inspiring and faith-filled meditation is paired with a verse of scripture and a heart-felt prayer.
Product Details
Title : Heaven: Your Real Home
Author: Tada, Joni Eareckson
Publisher: Zondervan
Publication Date: 2010
ISBN: 9780310872566
Reviews
What other people are saying about Heaven: Your Real Home.