Believing God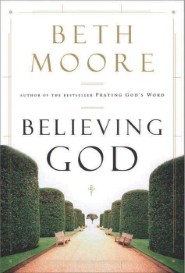 "Is it working? Your belief system, that is. Is it really working? God's intention all along has been for the believer's life to work. From divine perspective toward terrestrial turf, God meant for his children to succeed. . .
Are our Christian lives successful? Are they achieving and experiencing what Scripture said they would? In a recent sermon my son-in-law preached, Curt told us the only way we were going to impact the world and the next generation is to prove that our faith in Christ is real and that it works. For countless Christians I'm convinced it's real. My concern is whether or not we have the fruit to suggest it works."

—Beth Moore; Believing God
Product Details
Title : Believing God
Author: Moore, Beth
Publisher: B&H Publishing Group
Publication Date: 2004
ISBN: 9780805453003
About the Author
Beth Moore is a writer and teacher of best-selling books and Bible studies whose public speaking engagements carry her all over the United States. A dedicated wife and mother of two adult daughters, Moore lives in Houston, Texas, where she is president and founder of Living Proof Ministries. Her books include Praying God's Word, Believing God, Breaking Free, When Godly People Do Ungodly Things, A Heart Like His, The Beloved Disciple, among others.
Reviews
What other people are saying about Believing God.