Saving Sailor: A Novel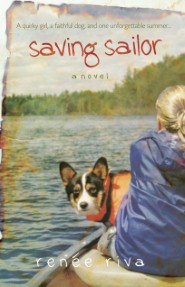 The year is 1968. After spending the first half of summer vacation driving her Italian family crazy with her fake southern accent, 10-year old A. J. finds a soul mate on the other side of the island to divert her attention.
She is intrigued to learn that Danny shares her same burning desire to know God and realizes that few people her age think as deeply as the two of them do. However, the depth of their newfound faith and friendship is soon tested when Danny's father betrays his wife.
Set in a simpler time, Saving Sailor is a heartwarming tale of how hearts can change and relationships can be restored with God's help.
Renee Riva has been writing humorous stories since she won a writing contest in second grade. Her two previous titles Izzy the Lizzy and Guido's Gondola both published by WaterBrook Press in May of 2005 and met with instant success—over 4000 sold in four months. Additionally, Riva is a former greeting card verse writer as well as a speaker for women's groups and Young Authors. She and her husband reside in Richland, Washington with their three daughters.