The Book of Life Recovery: Inspiring Stories and Biblical Wisdom for Your Journey through the Twelve Steps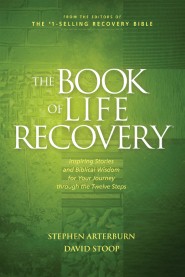 Do you struggle with addictions or dependencies, or do you want to help someone who does? From the authors of the popular Life Recovery series that has guided millions of readers back to health and wholeness, now comes the ultimate recovery book—written from a Christian perspective. As authors and counselors, Stephen Arterburn and David Stoop walk readers through the Twelve Steps of recovery. They share real-life personal stories from survivors as well as Biblical stories and verses to support readers in their journey. Whether using the book alone, or as a companion to the popular Life Recovery Bible, this is an essential resource for anyone wanting to walk closer with God through recovery, as well as for their counselors, pastors, and loved ones.
David Stoop, PhD, is a licensed clinical psychologist in California. He received a master's in theology from Fuller Theological Seminary and a doctorate from the University of Southern California. David is the founder and director of The Center for Family Therapy in Newport Beach, California. He is also an adjunct professor at Fuller Seminary and serves on the executive board of the American Association of Christian Counselors. David is a Gold Medallion–winning author and has written more than 25 books.
Stephen Arterburn is the founder and chairman of New Life Ministries—the nation's largest faith-based broadcast, counseling, and treatment ministry—and is the host of the nationally syndicated New Life Live! daily radio program on over 180 radio stations nationwide, Sirius XM radio, and on television. Steve is also the founder of the Women of Faith conferences, attended by over 4 million women, and of HisMatchforMe.com. A bestselling author, Steve has written more than one hundred books, including the popular Every Man's series and his most recent book, Healing Is a Choice. He is a Gold Medallion–winning author and has been nominated for numerous other writing awards. Steve has degrees from Baylor University and the University of North Texas as well as two honorary doctorate degrees. Steve resides with his family in Indiana.