The Quilt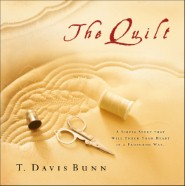 Bethany House Publishers
, 1993
The Quilt is a beautifully woven intergenerational story of a grandmother who uses a quilting project to pass along her spiritual heritage to family and friends. As the women gather together to share thanksgiving and requests as they quilt, they end up weaving both aspects of prayer into the fabric of their lives. In a world where people often are too busy to talk to those around them, let alone truly care for them, here is a welcome invitation to sit quietly, pray for others, and give thanks to God. A perfect gift for women of all ages, especially those who enjoy quilts, quilting, and other crafts.
Davis Bunn is an award-winning novelist whose audience spans reading genres from high drama and action thrillers to heartwarming relationship stories, in both contemporary and historical settings. He and his wife, Isabella, make their home in Florida for some of each year, and spend the rest near Oxford, England, where they each teach and write.
Reviews
What other people are saying about The Quilt.