The Truth About Money Lies: Help for Making Wise Financial Decisions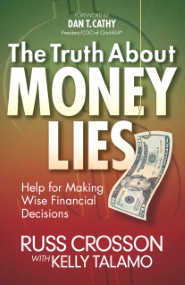 Harvest House Publishers
, 2012
When readers want financial advice (and who doesn't these days?), they turn to experts such as Russ Crosson, CEO of Ron Blue & Co., the highly successful Christian-based financial planning advisory firm.
In this important book, Russ teams up with gifted communicator Kelly Talamo to offer readers the truth about popular money lies that influence the spending decisions of millions of Americans. Through the use of everyday stories about men and women who wrestle with spending decisions everyone faces, the authors expose the lies involved and give truth principles based on the Bible to refute the lies.
Common lies include:
10 percent is God's, 90 percent is mine
I can't afford to give
My security is in my investments
My talents and abilities produce my wealth
The harder I work, the more money I make
Readers will be better equipped to manage money, make informed financial decisions, and use their money wisely as they replace the common money lies they've been taught with the truth of the Bible.
Russ Crosson is President and CEO of Ronald Blue & Co, LLC, one of the largest independent fee-only financial, investment, tax, estate and philanthropic advisory firms in the U.S. With a national network of 15 branch offices, the firm serves over 6500 individual and business clients. Russ graduated from Kansas State University with a BS in Mathematics and a Masters Degree in Education. He and his wife, Julie, live in Roswell, Georgia, and are active in the teaching and mentoring of married couples. They are the parents of three adult sons.
Kelly Talamo is an author, speaker, and the founder of Men Step Up, a ministry providing men with the leadership tools needed to start and maintain a ministry of their own. Kelly attended Louisiana State University and Columbia International University. He and his wife, Mary, are the parents of three adult children and make their home in Georgia.