Love Blooms in Winter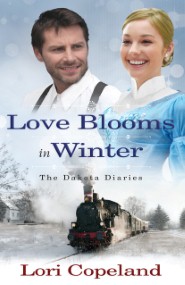 A romantic new book from bestselling author Lori Copeland that portrays God's miraculous provision even when none seems possible.
1892—Mae Wilkey's sweet next-door neighbor, Pauline, is suffering from old age and dementia and desperately needs family to come help her. But Pauline can't recall having kin remaining. Mae searches through her desk and finds a name—Tom Curtis, who may just be the answer to their prayers.
Tom can't remember an old aunt named Pauline, but if she thinks he's a long-lost nephew, he very well may be. After two desperate letters from Mae, he decides to pay a visit. An engagement, a runaway train, and a town of quirky, loveable people make for more of an adventure than Tom is expecting. But it is amazing what can bloom in winter when God is in charge of things.
Lori Copeland is the author of more than 90 titles, both historical and contemporary fiction. With more than 3 million copies of her books in print, she has developed a loyal following among her rapidly growing fans in the inspirational market. She has been honored with the Romantic Times Reviewer's Choice Award, The Holt Medallion, and Walden Books' Best Seller award. In 2000, Lori was inducted into the Missouri Writers Hall of Fame. She lives in the beautiful Ozarks with her husband, Lance, and their three children and five grandchildren.