Quiet Times for Couples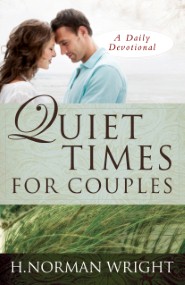 Harvest House Publishers
, 2011
In this freshly designed trade edition of the bestselling daily devotional Quiet Times for Couples (more than 600,000 copies sold), noted counselor and author Norm Wright provides the help couples need to nurture their marriages. In just a few moments together each day, couples will discover a richer intimacy with each other and with God. They are encouraged to share their fondest dreams and deepest thoughts—creating memories in these quiet times together.
A couple will look forward to closing the doors on the frenzied world and taking turns reading the devotions. The Scripture verses and meditations guide them in applying God's Word to their lives and marriage, and the daily discussions will fill their relationship with a new expression of God's promises and an everlasting love toward one another.
This is the perfect gift—thoughtful and inspirational—for all couples at any stage of life and relationship.
Product Details
Title : Quiet Times for Couples
Author: Wright, H. Norman
Publisher: Harvest House Publishers
Publication Date: 2011
ISBN: 9780736940467
About the Author
H. Norman Wright is a well-respected Christian counselor who has helped thousands of people improve their relationships and deal with grief, tragedy, and other concerns. He helps couples bring vibrancy to their relationships through counseling, seminars, and more than 90 books, including Before You Say "I Do" and After You Say "I Do." Norm also reveals insights for spiritual growth, great relationships, and success in devotionals that include Strong to the Core, Quiet Times for Every Parent, and Truly Devoted: What Dogs Teach Us About Life, Love, and Loyalty. Norm and his wife, Tess, enjoy their children, grandchildren, various pets, and fishing. www.hnormanwright.com
Reviews
What other people are saying about Quiet Times for Couples.