When Pleasing Others Is Hurting You: Finding God's Patterns for Healthy Relationships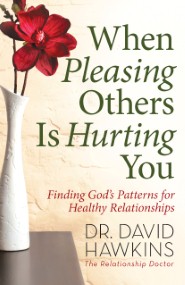 Harvest House Publishers
, 2010
A fresh new cover introduces the proven principles in this popular title—more than 75,000 copies sold—to a new group of readers.
Christians are called to be servants. But people who forfeit their God-given calling and identity in order to please others move from servanthood to codependency. How can they get back on track? Clinical psychologist David Hawkins offers a Christian perspective on healthy relationships and the pitfalls of being a people pleaser. He answers such important questions as…
Where does Christian service end and codependency begin?
What emotional needs lead to codependency, and how can those needs be met in healthier ways?
How can parents help their children avoid codependent behavior?
Readers will resonate with the real-life illustrations of people who no longer know what they think, want, or feel. Suggestions for redirecting unhealthy relationships empower readers to rediscover their own value and personal contribution.
Praise for When Pleasing Others Is Hurting You
"Excellent Book! God really used this book to affirm so many healthy choices I've made. I appreciate Dr. Hawkins' honesty, openness, and insight. He's unmatched as a Christian psychologist. I can't say enough good about all of Dr. Hawkins' books!"
—Debra White Smith, bestselling author of the Austin series and What Jane Austin Taught Me About Love and Romance
Product Details
Title : When Pleasing Others Is Hurting You: Finding God's Patterns for Healthy Relationships
Author: Hawkins, David
Publisher: Harvest House Publishers
Publication Date: 2010
ISBN: 9780736939904
About the Author
With more than 35 years of counseling experience, David Hawkins, PhD, has a special interest in helping individuals and couples strengthen their relationships. Dr. Hawkins' books, including When Pleasing Others Is Hurting You and Dealing with the CrazyMakers in Your Life, have more than 350,000 copies in print.
Reviews
What other people are saying about When Pleasing Others Is Hurting You: Finding God's Patterns for Healthy Relationships.