Lord, Teach Me to Pray for Kids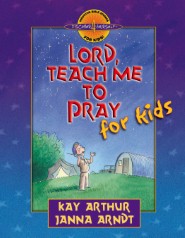 Harvest House Publishers
, 2002
Kay Arthur's popular Discover 4 Yourself® Inductive Bible Studies for Kids continues in this exciting exploration of the power of prayer.
As members in God's Special Forces, kids train to be communication experts. Using the illustration of "chain of command," Kay Arthur and Janna Arndt explain the concept of prayer. Fun puzzles, mazes, and codes help kids make contact with "home base," develop clear reception, and stay continually in touch with their Commander in Chief, their Father in heaven.
The Lord's Prayer is the foundation of this special basic training, and it's not long before the trainees discover the awesome truth that God wants to talk to them as much as they want to talk to Him!
Kay Arthur, an award-winning author, is a passionate Bible student and teacher. She and her husband, Jack, cofounded Precept Ministries International to teach people how to discover truth through inductive study. Precept provides teaching and training through study books, TV and radio programs, the Internet, and conferences in 150 countries and 70 languages.
Janna Arndt, coauthor of the Discover 4 Yourself® series, is a Precept trainer who conducts workshops to help people use the interactive Discover 4 Yourself® Bible Studies in Sunday schools, homeschool environments, and Christian schools. Janna's heart is for children to know and love God's Word.