Jesus--to Eternity and Beyond!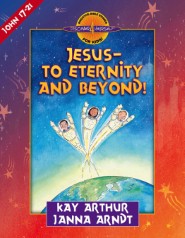 Kay Arthur's popular Discover 4 Yourself® Bible Studies continue in this delightfully interactive "production" of Jesus—To Eternity and Beyond! Focusing on John 17–21, kids become "directors" who must discover the details of Jesus' life to make a great movie.
Children will learn how to get the most out of reading their Bibles and ways to incorporate biblical truths into their lives. Through Bible reading and marking, "building" movie sets, creating scripts, and solving puzzles, kids explore Jesus' last hours, including His prayer in the garden, His betrayal and arrest, His trial and crucifixion, and the triumph of His resurrection. They'll also uncover Peter's denial of Christ and the disciple's joy when his relationship with Jesus is restored.
Kay Arthur is a four-time Gold Medallion award-winning author and beloved international Bible teacher. Kay reaches more than 80 million people daily through radio and TV and countless more through the Internet as the featured teacher on Precepts for Life. She and her husband, Jack, founded Precept Ministries International in 1970. Today Precept teaches people in 150 countries and nearly 70 languages how to discover truth for themselves.
Janna Arndt, coauthor of the Discover 4 Yourself® series, is a Precept trainer who conducts workshops to help people use the interactive Discover 4 Yourself® Bible Studies in Sunday schools, homeschool environments, and Christian schools. Janna's heart is for children to know and love God's Word.