Fabulous and Funny Clean Jokes for Kids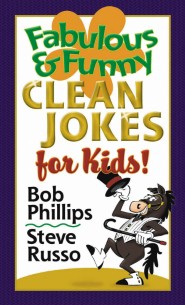 Harvest House Publishers
, 2004
Make 'em laugh, make 'em laugh, make 'em laugh!!
Bob Phillips hits the mark again with his Fabulous and Funny Clean Jokes for Kids. Phenomenal sales and happy kids are the results of Bob's incredibly popular humor. For added zip, internationally known youth communicator Steve Russo teams up with Bob in this latest collection of zany jokes, knock-knocks, riddles, and puns.
Did you hear about the terrible accident? A red cruise ship collided with a purple cruise ship.
What happened?
All the passengers were marooned.
Great for road trips, plane rides, and overnights with any grandma who doesn't have Nintendo, kids will flip over all the fun.
Bob Phillips, PhD, is the former executive director of a multimillion-dollar nonprofit corporation. He is a licensed marriage, family, and child therapist in California. The cofounder of the Pointman Leadership Institute, Bob has presented leadership seminars in 19 countries. With more than 11 million copies in print, he is the author and coauthor of numerous nonfiction, humor, and fiction books, including his New York Times bestselling Babylon Rising series.